News
09.04.2014
Cloud is an industrial revolution, and Europe is being left behind
As part of a panel discussion at the Trust in the Digital world summit in Vienna, Tobias Höllwarth, the vice-chairman and treasurer for EuroCloud, spoke about how Europe faces falling behind in cloud adoption.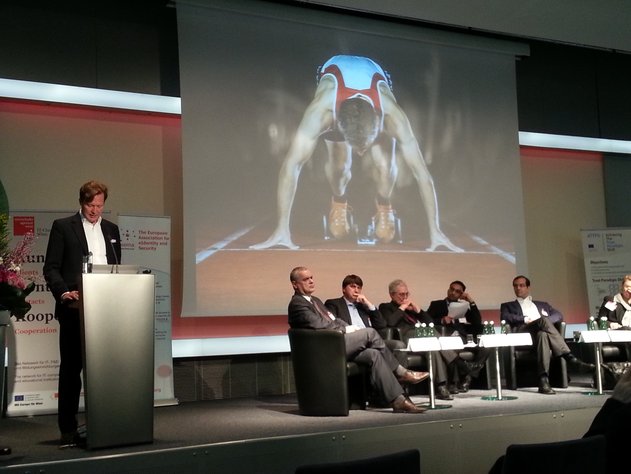 Tobias Höllwarth, the vice-chairman and treasurer for EuroCloud
Autor: Cooper Paul: Cloud is an industrial revolution, and Europe is being left behind. In: www.itproportal.com, 2014
The uptake of cloud services in Europe is very slow. If you compare it to Asia, in Taiwan or China, for instance our uptake is dreadfully slow.
There's an industrial revolution going on, and if you don't take care, if you don't try to get expertise and knowledge, you'll have a real disadvantage.
Often on the provider side, you get people who are like teenagers and think they know it all. People have to take hold of this, or this is what's going to happen to us. This is a painting by Turner of The Fighting Téméraire, tugged by a little steam boat to be wrecked. An obsolete technology.
Cloud is driving innovation, new solutions and more cost-effective services. Cloud is very cheap, very easy. Then somebody comes along and says "we need standards, but there are a lot of legal boundaries, and we don't want them."
But if you don't have trust, ether on the provider or the consumer side, you won't have best practices.
When we take an MOT, for instance, we trust that there is a chain of certification, that there's a regulatory body that decides whether our cars are fit to drive down the motorway at speed with our kids in the back seat. We need the same thing for clouds. A long term relationship based on certifications. You need to know that you're employing a fully responsible provider with known subcontractors.
Cloud isn't used in the same way by every user. One user is using software as a service. He needs that software to work every day. The next one wants to use it for medical data. He needs it immediately, and needs high security.
What we need is transparency of the full chain of the service. We need to make sure cloud providers are secure, that there's no vendor log-in, that the technological interface is fine, that there are open interfaces so data migration is possible.
We need to make sure that there's an ecosystem of certification, that the same criteria are being checked in Taiwan, in Germany, in the UK.
The Trust in the Digital World conference runs from 7-8 April, and ITProPortal will be covering the ins and outs of what's being discussed here in the Austrian Chamber of Commerce.