News
12.06.2018
Fabasoft Cloud Reconfirmed as World's Most Secure Cloud Service
The renowned cloud certification service EuroCloud Europe has once again decided to award Fabasoft Cloud the highest possible certification level as the only cloud service worldwide. Distinctions like this one confirm the excellent security standards for data in the Fabasoft Cloud.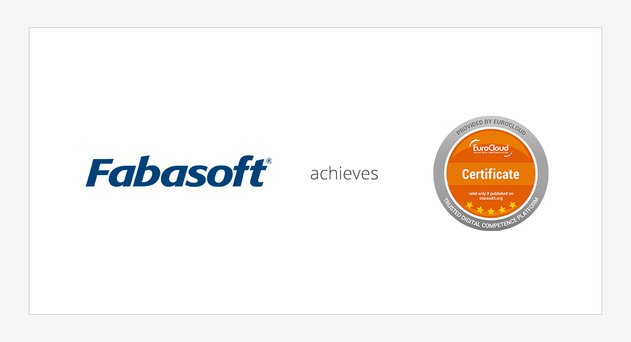 Vienna / Linz, 12 June 2018. The Fabasoft Cloud has once again passed the demanding assessment of EuroCloud Europe with flying colours. As the only cloud service in the world with a 5-star rating, the Fabasoft Cloud continues to ensure the best possible data storage for its customers.
"Fabasoft has been demonstrating how to operate a high-quality cloud service for many years," Tobias Höllwarth, president of the pan-European association EuroCloud Europe confirms. "The transparent and full publication of the results of a cloud certification builds trust. And that this European paradigm happens to be located in Austria is particularly pleasing."
During its qualitative assessment of a cloud ecosystem, the EuroCloud certificate takes the entire supply chain into consideration. The scope of the assessment was sharpened in terms of content over the past two years, and the new assessment catalogue expected to be published soon will contain further extensive adaptations, including more intensive evaluations related to the EU GDPR.
Unconditional Trust
Besides general information on the cloud provider, EuroCloud Europe's audit scheme focuses on factors like the location of data storage, the compliance conformity of general and service-related terms and conditions, the entire security management and data protection requirements, the operation and infrastructure as well as all operative processes. When a cloud provider is certified by EuroCloud Europe, potential customers can rest assured that the most stringent quality standards are in effect for all offered cloud services and the entire provider infrastructure.
"This renewed confirmation of our intensive investments into uncompromising security and the protection of our customers' data is extremely gratifying," says Andreas Dangl, Business Unit Executive for Cloud Services at Fabasoft. "The highest level of certification from the EuroCloud Europe audit proves that we take the trust of our customers very seriously—and we guarantee that will not change in future."
About Fabasoft

Fabasoft is one of the leading software product companies and cloud service providers for digital document controlling and electronic document, process and records management in Europe. It is located in Linz, Austria. Fabasoft's products support the digitalisation, simplification, acceleration and quality improvement of business processes—within organisations as well as across organisational and national borders. The software products and cloud services include the receipt, structuring, team- and process-oriented provision, processing and handling, secure storage and context-sensitive finding of all business documents for enterprises. Customers benefit from three decades of innovation and experience in all-embracing digital document controlling. www.fabasoft.com
Fabasoft is a member of the EU-SEC consortium: The European Security Certification Framework (EU-SEC) is a Horizon 2020 research project with the goal of improving the business value, effectiveness and efficiency of existing cloud security certification schemes. EU-SEC focuses primarily on aspects related to automation, governance, the interplay of different certifications, reusable components, continuous auditing and monitoring, cost reduction, and overall duration of the cloud certification process. www.sec-cert.eu
About EuroCloud
EuroCloud (ECE) is an independent non-profit organisation. Its goal is to promote the acceptance of cloud services on the international market and support customer-oriented provision of these services as well as the demand for them. ECE offers a cloud certification scheme to establish trust in cloud services on the part of customers and providers alike. The purpose of this certificate and the audit of cloud services is to provide trustworthy quality assessments of cloud services. The audit comprises non-negotiable mandatory criteria covering the entire spectrum of important areas like provider profiles, contractual and compliance aspects the protection of personal data in accordance with local laws, security, operation, environment and technical infrastructure, processes and relevant parts of the application and implementation, and interoperability and data portability. EuroCloud Europe assesses cloud services according to a defined and published catalogue of criteria. The result of this audit shows the respective service level. Service providers with the EuroCloud Europe seal of quality can document that the fulfil all relevant criteria, confirmed by EuroCloud Europe following thorough assessments by international audit companies. www.eurocloud.org